The third SVOM scientific workshop, entitled "Disentangling the merging Universe with SVOM" and bringing together 70 participants, was held from 14 to 18 May 2018 at the Houches physics school in the Chamonix valley. This year, a scientific theme was particularly highlighted, the contribution of the SVOM mission to the study of gravitational waves at the dawn of the next decade. The observation strategy during a gravitational wave warning was at the heart of the debates.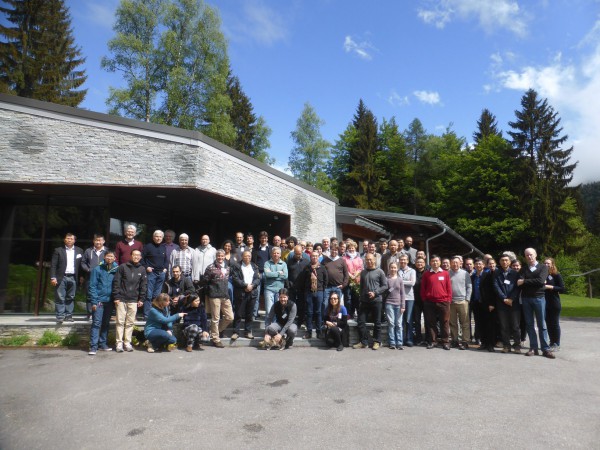 On August 17, 2017 the Ligo-Virgo collaboration detected a packet of gravitational waves from the fusion of two neutron stars lurking in the galaxy NGC 4993. Less than two seconds later, the Gamma ray Burst Monitor (GBM) of the Fermi mission detected for the first time an electromagnetic counterpart to this event, a signal confirmed by the Integral satellite. This correlated detection in gravitational waves and electromagnetic waves is a major scientific fact of the last decade. The SVOM mission, whose primary objective is the detection and study of gamma-ray bursts, is particularly well suited to contribute to this major scientific theme in view of its array of instruments equipping its space platform and the ground resources at its disposal.
During this workshop, several sessions described the state of the art of gravitational wave detection by active detectors, in terms of scientific results and future projections. The event of 17 August 2017 (fusion of two neutron stars) was the subject of special attention. The potential of the SVOM mission was highlighted, informed by simulations of the detection of such an event by the mission instruments and their contribution to the community.
Beyond this theme, the scientists exchanged on the more practical aspects of the technical constraints of the mission (orbit, accessible sky zone in accordance with the main program, opportunity and limit of modification of the satellite point linked to an alert, etc.).
The participants also took advantage of the majestic setting of the Houches School of Physics to address new research themes and update and complete the scientific document describing the mission in a broad sense (the White Paper).