The MXT telescope optics, an original device inspired by lobster eyes to ensure a large field of view, have just been delivered by the CNES teams at the beginning of May 2021. This revolutionary optics, placed at the entrance of the MXT telescope, will allow to collect the X-rays in a field of 1 square degree on the sky (i.e. 4 times the apparent surface of the Sun) and direct them towards the MXT camera at the focus of the telescope.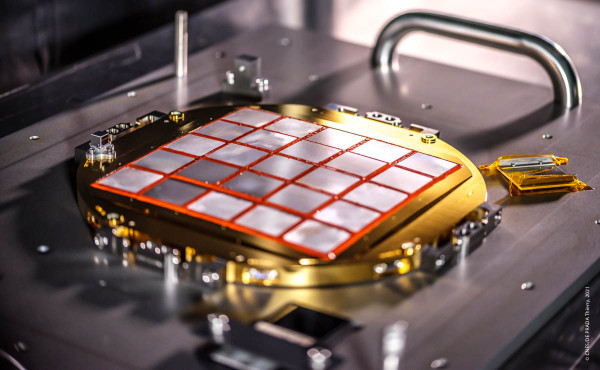 The optics is composed of 25 plates arranged in a mosaic. Inspired by the faceted eyes of crustaceans, each plate contains approximately 600,000 "facets" of glass of only 40 microns per side. This set constitutes the MXT's micro-channel concentrator. This optics required high-precision glasswork carried out by the company Photonis. According to François Gonzalez, SVOM project manager at CNES, "Making regular micro-channels of this size in glass has been a big challenge. The industrial process requires more than 50 manufacturing steps, each as complex and delicate as the next ".
The plates were then integrated at the University of Leicester (UK) on a slightly convex aluminum frame, fitted with heaters for thermal control and with a system of magnets to deflect the charged particles. They are coated with iridium to increase their x-ray reflectivity and the entrance surface is coated with a thin layer of aluminum to block visible light.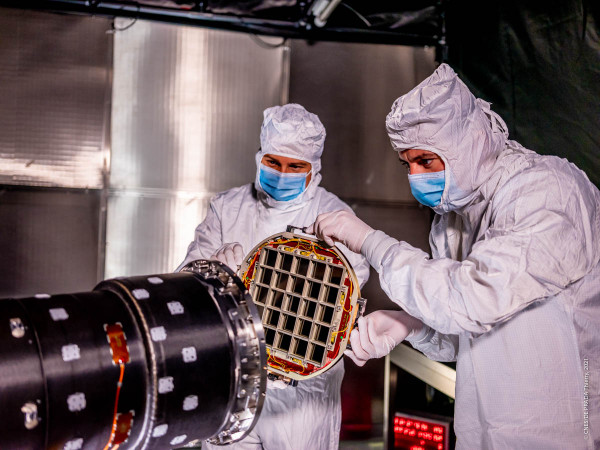 This extremely innovative optics has allowed a remarkable gain of weight since the assembly weighs less than 2 kg, against several tens of kg for similar instruments in space missions such as SWIFT and XMM-Newton. During 2021, this optics will be assembled on the MXT telescope structure and the entire MXT telescope (optics and camera) will undergo testing and final calibration which will be performed at the MPE X-ray Panter facility in Munich (Germany) before shipping to China scheduled for late 2021.